NOVELTIES/MISCELLANEOUS

Pedestal Arcade Cabinet

Price:
$595
This NEW empty pedestal arcade cabinet will accommodate 1, 2 or 3 computers.
_________________________________________________
Game: Boxer Arcade Game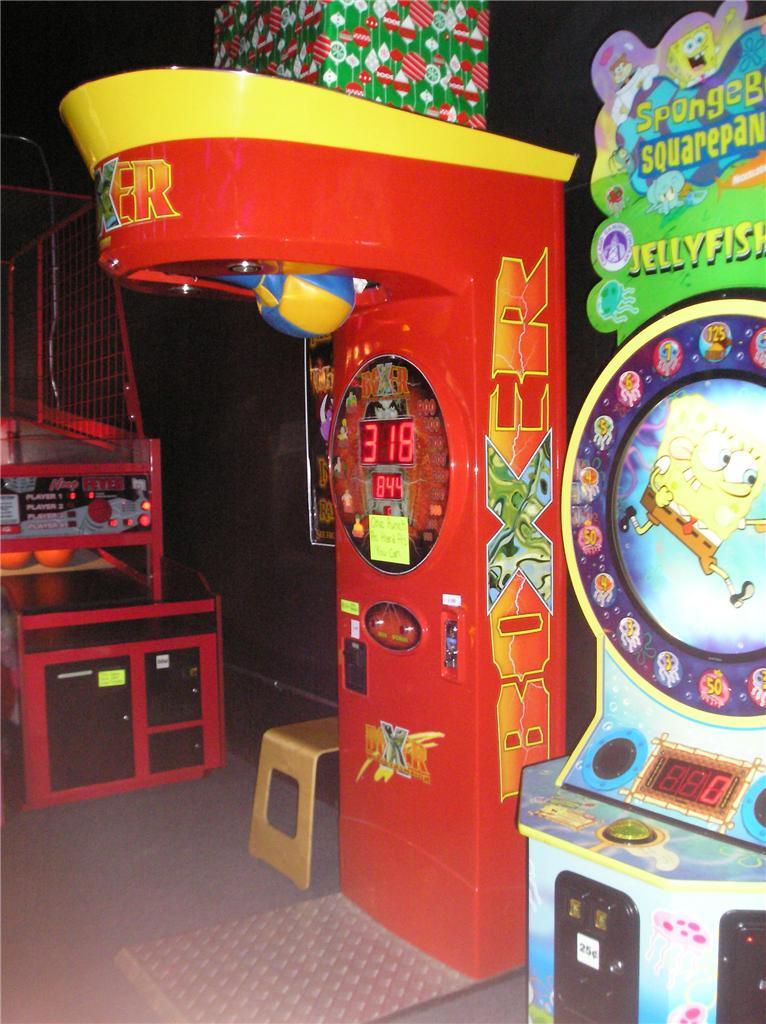 Manufacturer: Punchline

Use: Home or Commercial

Price: $3,595-RECONDITIONED
Out of a Monster Mini Golf - all equipment went in new, had very light usage and is in excellent condition.

The Boxer is a strength testing machine where the player needs to punch the boxing bag so the machine,
through sensors, can read the strength used for the punch. Players must meet or exceed the number of
punches the machine sets per game. The machine can also be set to measure the speed of the punch instead of the power of the punch.

Features:
Multi-lingual voice responses
Crystal clear MP3 sound
Mechanical and electronic counter
Easy updatable software
Man and Woman modes
Improved durability

Dimensions:

7'H x 2.4'W x 3.75'D
_________________________________________________


Face Place Photo Booth
Manufacturer: Apple Industries

Use: Commercial

Price:
$3,995
This FACE PLACE PHOTO BOOTH by Apple Industries is in EXCELLENT condition and has been updated with the newest kit ($3,000), latest software and hardware. It works great!

The Face Place Photo Booth from Apple Industries simply pops with style. This flashy model serves as a reminder of the classic New York/Broadway type photo booths. Created in cooperation with Polaroid, the nostalgia-inspired design possess curb appeal and is ideal for heavy traffic locations or even home use! Customers strike 4 poses for fun, black and white photographs. Photos are printed by dual internal thermal printing systems and take only 15 seconds to print! Film can be purchased by the roll or by the case. The film strips can be customized with logos or advertising messages. The Face Place is reliable, with no ink cartridges or chemicals to slow you down or cause a mess. Revive the thrill, anticipation and intimacy of the photo booth with the unique Face Place Photo Booth from Apple Industries.

Standard Features Include:
- 2 Polaroid Thermal Printers
- All Steel Construction
- High Quality Powder Coat Finish
- Smart Card Paper Management
- No PC, No Hard Drive
- Flash Memory
- 16 Second Print Cycle
- Advertising / Promotional Frame
- Average Vendor Cost $.50
- Attractive Neo-Flex Lit Aperture

_________________________________________________
Original Glow Machine

Use: Commercial

Price: $1,295-Like New

This is THE ORIGINAL GLOW MACHINE in "LIKE NEW" condition! This machine was purchased as an evaluation piece for a large chain store contract. Additional capsules are available for $2.00 each. Machine takes 1's & 5's.

The "Original" Glow Machine is the hottest vending machine to be offered in the USA...made in the USA too!

Features:
Heavy Cold Rolled Steel Construction
Display boards are hard wired into the machine so you never have to worry about batteries!
Durable triple lock mechanism to ensure all vends are accounted for.

Dimensions: 49"H x 15.5"W x 41"L

_________________________________________________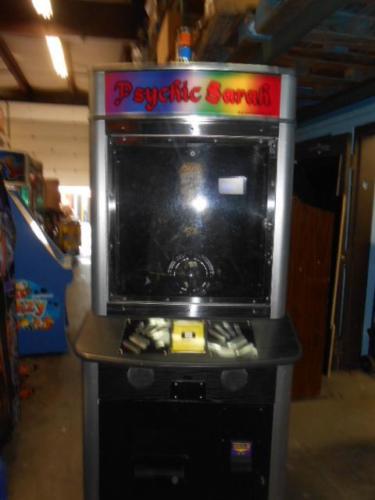 Psychic Sara
Manufacturer: Coastal Amusements

Use: Home or Commercial

Price:
$2,395
This is a PSYCHIC SARAH arcade machine by Coastal Amusements!
Put your hands on the sensors and Psychic Sarah will show your aura color, your future and your fortune!
Aura Sensors - Introducing distinctive scientific Aura Color! Not only entertaining, it offers reliable information about your future and fortune.
Camera & LCD - Psychic Sarah has a camera on her forehead which delivers realistic scientific information. You get a color printout featuring an Aura photo of your face with the information you are matched with.Plasma Ball - Plasma Ball and Gypsy-style Sarah mannequin produce a scene of mysticism.Includes a Bill Acceptor that takes $1's & $5's.
Great machine for home or location use - also has a motion sensor, so as you walk by it talks.

_________________________________________________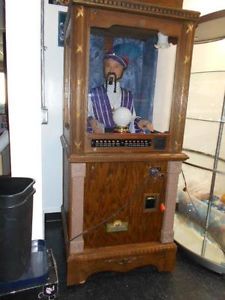 Zoltar Fortune Teller

Use: Home or Commercial

Price: $7,995

This Zoltar Fortune Teller / Zodiac Feature
has the highest quality cabinet we have ever seen.
Accept bills and coins

_________________________________________________


GUMBALL MACHINES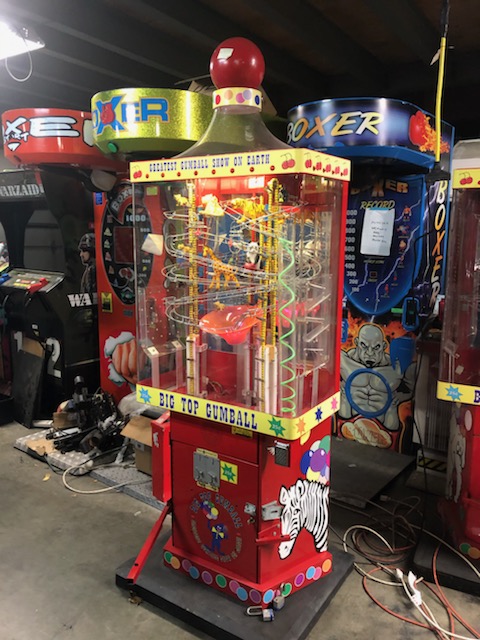 BIG TOP GUMBALL MACHINE

Use: Commercial or Home

Price:
$695-Used

This gumball machine features dual tracks, lights and music. Activated with three chain driven ball lifts. Works great. A real money maker or also perfect for home use.
_________________________________________________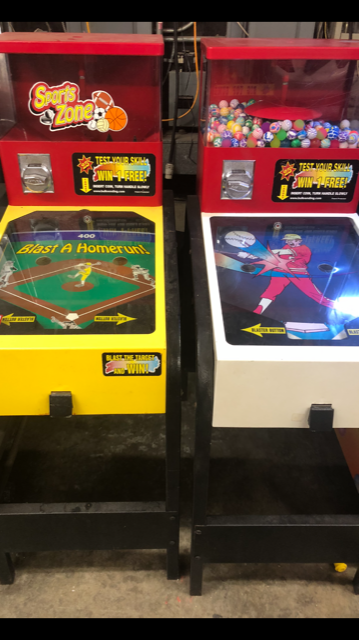 SPORTS BLASTER

Use: Commercial or Home

Price:
$399-Used
The Sports Blaster Gumball Machine is an all-mechanical novelty pinball game that dispenses candy or toy products.

DOES NOT REQUIRE POWER OR BATTERIES. This listing is for the yellow machine.
The novelty of the game is that the dispensed product becomes the play ball or 'pinball'. The object of the game is to strike the product with the mechanical flippers and skillfully hit a suspended target. Doing so will cause the game to dispense a second product free.



_________________________________________________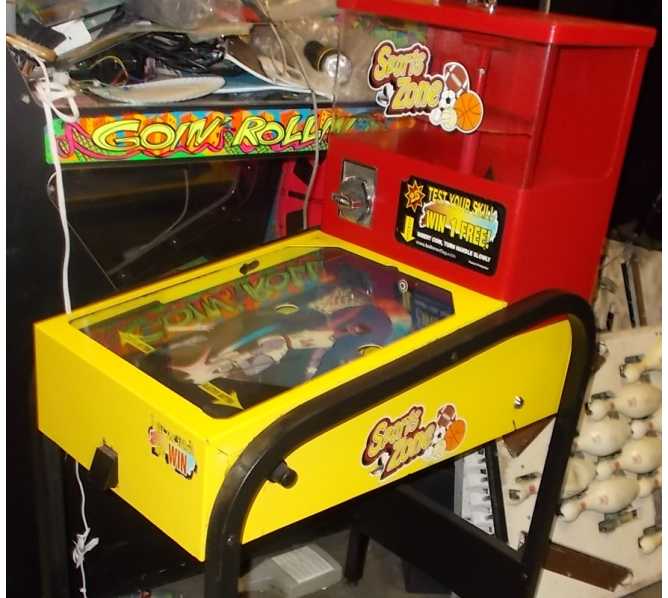 SPORTS ZONE

Use: Commercial or Home

Price:
$300-Used
Here is a SPORTS ZONE Gumball/Super Ball Machine for sale - Vend Gumballs or Super Balls!
15 in stock.

Dimensions:
31" x 19" x 49.25"H
_________________________________________________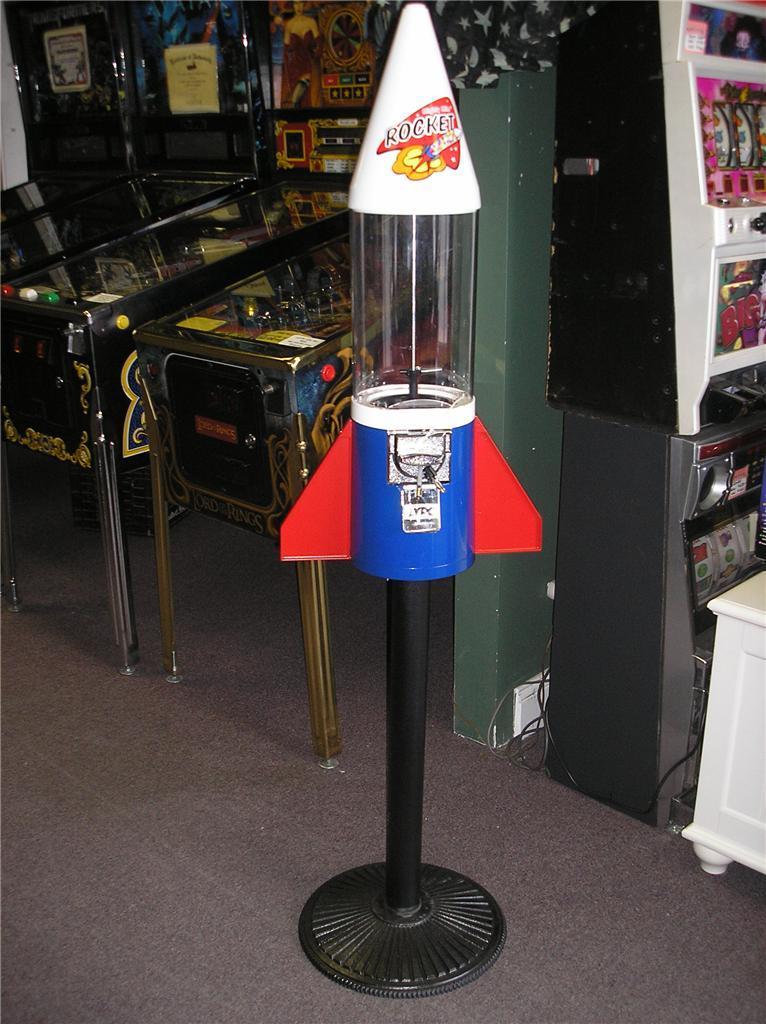 MIGHTY MITE ROCKET
GUMBALL MACHINE

Use: Commercial or Home

Price: $295-NEW
Here is a BRAND NEW MIGHTY MITE ROCKET gumball machine!
Blast off with the LYPC Mighty Mite Rocket! All metal construction, virtually indestructible. Cash box included for easy collections. Commercial quality for business or home use. Jam-proof drop through coin mechanism. Accepts 1 US or Canadian Quarter. Dispenses 1" gumballs, 27 mm super balls or 1" capsules. Polycarbonate shatter-proof break resistant globe. Patriotic red, white & blue.

_________________________________________________
Pinballs.com is the Games Division of Automated Services, LLC. All rights reserved. 2023