DOME HOCKEY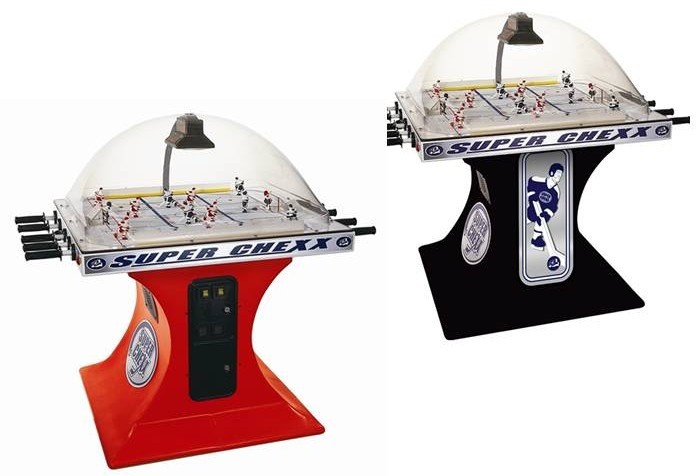 Name: Super Chexx-NEW

Manufacturer: ICE
Use: Home or Commercial
Price:

$3,995-no coin door - IN STOCK
+ $200 for LED Kit

+$300- with coin door

NEW IN BOX. READY TO SHIP. Choose Red or Black
ICE's very first coin operated amusement game that to this day is still considered one of the ALL TIME CLASSICS!!! Also known as Bubble Hockey because of the very distinguished, indestructible dome that covers the playfield. The gameplay is fast, exciting, and realistic as the players on either side control all 5 hockey players and the goalie.
The game can be played as a one on one game, or in many cases, especially for tournaments, it is played two on two. The games new electronics record GOALS, SHOTS ON GOAL, PERIOD, and RUNNING TIME. The running time is operator adjustable. There is an automatic puck return system, overhead dome lighting, and if a game is tied after the normal game play it will automatically go into sudden death overtime - so there's always a winner!!
FEATURES:

- Live action sounds with legendary Sabres announcer Rick Jeanneret on play-by-play
- Player rods control all 5 men and goalie
- Smooth ICE for unmatched game play
- Indestructible Lexan "bubble" dome
- Electronics record Goals, Shots, Period, and Running Time (adjustable)
- Automatic puck return and eject system with overhead bubble dome lighting
- U.S.A. & Canadian anthems included
- Adjustable external volume knob
- Dome swings open for easy cleaning
- Aluminum cabinet - strong, durable & light
- Full color service manual included
- 1 year home warranty on all parts

Dimensions: 60"d x 30"w x 54"h Weight 170 lbs
___________________________________________________________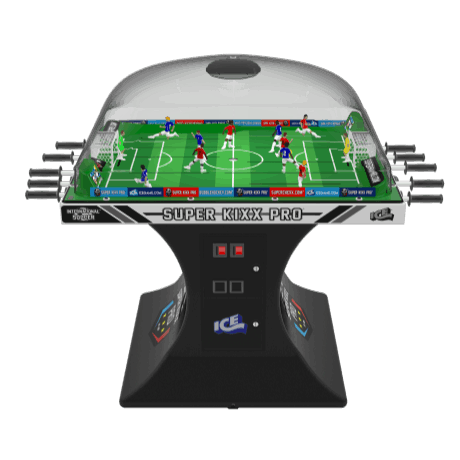 Name: Super Kixx-NEW

Manufacturer: ICE
Use: Home or Commercial
Price: $4,895

Score the all-new Super Kixx Pro — the best international arcade soccer game! Choose your nation and enjoy endless hours of chipping, passing and shooting!

___________________________________________________________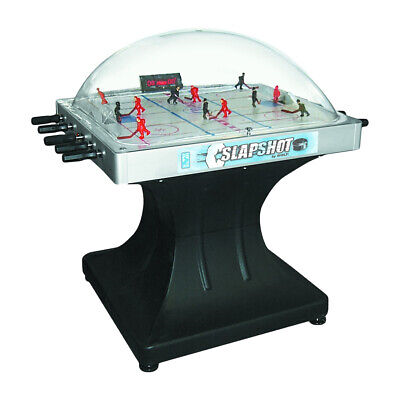 Name: Slap Shot-Floor Model

Manufacturer: Gold Standard

Use: Home or Commercial
Price:
$2,295
We have a SLAP SHOT Floor Model with side scoring that has never been played.

Length (in.): 52
Width (in.): 36
Height (in.): 51.75
Weight (lbs.): 230

___________________________________________________

Pinballs.com is the Games Division of Automated Services, LLC. All rights reserved. 2023