DOME HOCKEY

We've got all the most popular Shelti dome hockey tables and Super Chexx at Pinballs.com.

___________________________________________________
Name: Slap Shot
Manufacturer: Shelti
Use: Home
Price: $1,699-NEW
Features
Rods are chrome-plated, hollow ground steel with 0.0120"

wall thickness

Marriage of high lubricity materials-nylon bushings and ultra-smooth rods-results in exceptional play performance with minimal friction wear




Dome "bubble" is fastened with hinges for easy access to men, goals, and playfield.

Molded based includes 4 leg levelers to assure level play surface-adjustable to 1".

Playfield is supported on all 4 sides of the cabinet by 2 beams running between the rods, and the tops of the player gear boxes. Gear boxes are supported by durable extruded aluminum channels.




Gear box clutch system is designed to "give" when opposing man-to-man force is applied. Reduces likelihood of stick or man breakage and extends life of gear box.

Men feature steel rod supports in foot - allows torque and pressure to be applied to the clutch, rather than the fitting between the man and gear box.

Upper

c

abinet construction is made of a MDF interior and a decorative, brushed aluminum exterior.

Attractive

playfield graphics are screened into high-pressure laminate and covered with a protective clear-coat for long wear.

Electronic scoring

unit utilizes infrared scoring for reliability and accuracy. Sounds goal scored. Scoring unit is side mounted to keep player sight lines clear.
.
___________________________________________________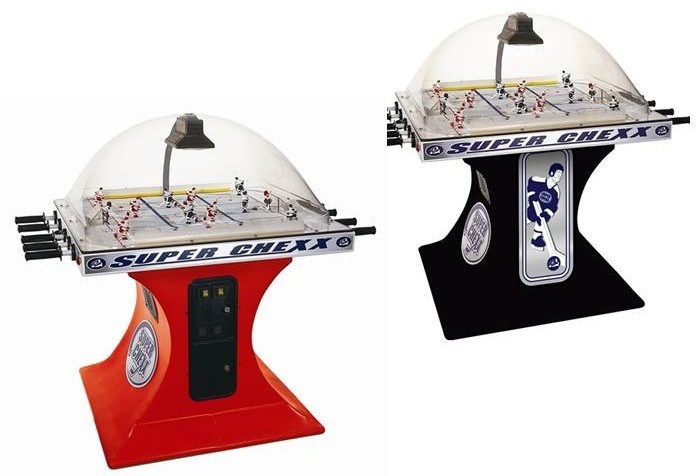 Name: Super Chexx-NEW
Manufacturer: ICE
Use: Home or Commercial
Price:

$3,695-no coin door-Free Shipping

$3,995 with coin door-Free Shipping

NEW IN BOX. READY TO SHIP. Choose Red or Black
ICE's very first coin operated amusement game that to this day is still considered one of the ALL TIME CLASSICS!!! Also known as Bubble Hockey because of the very distinguished, indestructible dome that covers the playfield. The gameplay is fast, exciting, and realistic as the players on either side control all 5 hockey players and the goalie.
The game can be played as a one on one game, or in many cases, especially for tournaments, it is played two on two. The games new electronics record GOALS, SHOTS ON GOAL, PERIOD, and RUNNING TIME. The running time is operator adjustable. There is an automatic puck return system, overhead dome lighting, and if a game is tied after the normal game play it will automatically go into sudden death overtime - so there's always a winner!!
FEATURES:

- Live action sounds with legendary Sabres announcer Rick Jeanneret on play-by-play
- Player rods control all 5 men and goalie
- Smooth ICE for unmatched game play
- Indestructible Lexan "bubble" dome
- Electronics record Goals, Shots, Period, and Running Time (adjustable)
- Automatic puck return and eject system with overhead bubble dome lighting
- U.S.A. & Canadian anthems included
- Adjustable external volume knob
- Dome swings open for easy cleaning
- Aluminum cabinet - strong, durable & light
- Full color service manual included
- 1 year home warranty on all parts

Dimensions: 60"d x 30"w x 54"h Weight 170 lbs

___________________________________________________
ALSO AVAILABLE:

Name: Super Chexx-Pre-Owned
Manufacturer: ICE
Use: Home or Commercial
Price:

$1,495-Used Dome

$1,995- New Dome

___________________________________________________

Pinballs.com is the Games Division of Automated Services, LLC. All rights reserved. 2021