DART MACHINES

___________________________________________________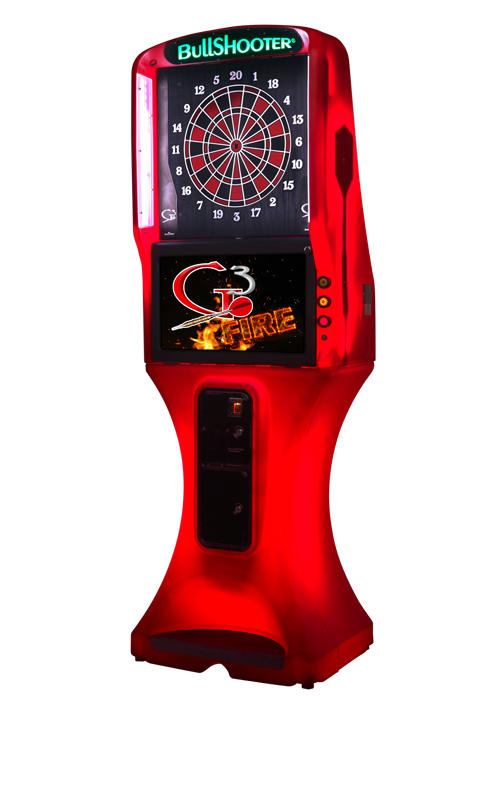 Game: Galaxy 3 Fire

Manufacturer: Arachnid
Use: Home or Commercial

Price:
$4,795 - NEW-FREE SHIPPING
A bill validator can be added for $200
Please note: This game can not be used online unless you are a commercial operator.

Arachnid introduces the Galaxy 3 Fire. The G3 Fire is the first of its kind with it's glowing cabinet. It has all the exciting features from the Galaxy 3 Live, including worldwide online play, tracked player rankings and statistics. In addition to the glowing cabinet, the machine is equipped with a larger display, better player camera, automatic target flip, and new games! All of this while maintaining the compatibility amongst all other G3's that are already out in the world.

G3 Fire Features:
Larger 24″ Monitor
Enhanced Player Camera
Automatic Target Flip
New Games
Compatible with all G3's
Live Remote Play
Standard & Remote Leagues
Glowing Cabinet

___________________________________________________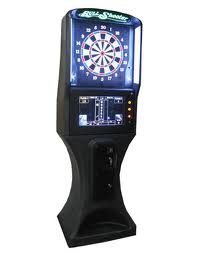 Game: Galaxy 3

Manufacturer: Arachnid
Use: Home or Commercial

Price:
$4,195 - NEW-FREE SHIPPING

A bill validator can be added for $200

Galaxy 3 Live Commercial Electronic Dart Machine
The latest dartboard from Arachnid, the Galaxy 3 Live, features Dual "Flip" Dartboards, LED Lighting, Online Play Capabilities and International Player Rankings, as well as Arachnid's "League Leader" Paperless League Software !

All the features you liked about the Galaxy 2 have been carried over to the new Galaxy 3 + all the new features!

The Galaxy 3 comes with both the traditional 15" Darthead and the new European-sized 13" Darthead, both of which are mounted on a rotating back board.

Also new is the LED Illuminated Dart Target and Marquee - Strips of LED Lights line the side of the cabinet giving the player a well-lit dart head to throw at. These same LED's can be configured to display patterns of color to attract players to the game. The new Galaxy 3 is also capable of playing across the internet and across the world - This means players or teams in your own bar or other location can play against other players or teams across town, or across the globe ! The Galaxy 3 has (2) cameras located on the top of the cabinet, one of which is angled towards the dart face, so that the other player can see every dart hit, and the other camera being pointed toward the player.

Galaxy 3 Live Electronic Dart Machine Features :

• New On-Screen "Player Feats" and Game Graphics !
• New White + Multicolored LED Target Illumination !
• Quick Flip / Adjustable 15" and 13" Dart Heads !
• New Wired or Wireless Internet Connectivity !
• New Online Play - Play Against Others Worldwide !
• New Target + Player Cameras Tracks Online Play !
• Real Time Stats Updated Instantly On Screen !
• Operator Advertising – Free, Flexible, Customizable
• Free Software Updates
• Coin Models come with Dual Coin Mechanisms
and can be set for "free play" if needed and DBA
Model comes with both Coin + Dollar Bill Acceptors

Games included are : (6) 301 Games, (6) 501 Games, (6) 701 Games, Cricket 200, Hammer Cricket, Team Hammer, Cut Throat Cricket, Team Cricket, Quick Cricket, Wild Card Cricket, Cricket Quickie, Tic Tack Darts Bermuda Triangle, Gotcha!, Count Up and Count Down Games.
Online Services : Wired or Wireless Internet Connection required for League Leader and Remote Play Functions Costs : $100 USD Per Year For League Leader Account, and additional $100 USD Per Year For Remote Play Option Payment for online services is handled directly by factory.

Note: You must subscribe to a League Leader account before you can offer Remote Play to your customers.


Also available:
Game: Galaxy 3 Live

Manufacturer: Arachnid
Use: Home or Commercial

Price:
$3,395-Light Use-FREE SHIPPING

___________________________________________________

Game: Galaxy 2.5

Manufacturer: Arachnid
Use: Home or Commercial

We have GALAXY 2.5 Commercial Electronic Dart Machines for sale. Excellent condition, flat screen.

The Granddaddy of all electronic dart boards! Made by Arachnid, the leader in commercial grade arcade-style dart boards. This is the same soft-tip electronic dart game that can be played in arcades and taverns across the country, but now you can bring real arcade gaming action to your own home.
The Galaxy comes equipped with a flashy 19-inch full-color LCD monitor for easier viewing and superb color graphics. It also has a whole new set of inventive "Speed Games" that are sure to add an exciting twist to the game of darts.

Features:
Real arcade-style coin operation - you choose the cost or make it free!
Missed dart detector
All your favorite Cricket and O1 games, plus new ones like BS Golf
Fully lit target area illuminated from both sides
Auto player change
Selectable bull
Full color 19-inch LCD monitor
Handicapping
Player name input and recognition
Full tournament capabilities - create your own dart league!
Quality and durability you expect from Arachnid
A/C Power
Automated league mode
Download league configurations
Download league standings
Network multiple machines
Attract Screens add color and excitement when not in play
Customized "WIN" screens
Backwards compatibility
Modem call out
Simplified network configuration
Commercial-grade, soft-tip electronic dart board
Real coin operation - you set the cost!
19-inch LCD full-color monitor for easy viewing
Multiple game options and customized settings
Multiple machines can be networked together
Accommodates 8 players
Regulation target area illuminated from both sides
A top choice for your home arcade

Dimensions:
27"W x 21"D x 84"H


_________________________________________________
Game: All American Darts

Manufacturer: IDEA
Use: Home

Price:
$795-Reconditioned
Fascinating Skill game
It has been cleaned, tested and brought to 100% functionality.
___________________________________________________
Game: Cougar 8

Manufacturer: Valley
Use: Home

Price:
$795-Reconditioned
This is a COUGAR 8 Upright Arcade machine by VALLEY!
With its unique time limits games, Rapid Fire and Stop Watch, Cougar 8 provides you with the fastest way to increase dart game revenue! Players can adjust their shooting time to compensate for their individual degree of speed and skill.

After each round, player's time handicaps are adjusted by Honest Ernie, the computer. Time is added or deducted according to player's skill level. A 9 round game featuring a different target each round.

Hit the target and score increases. Miss the target and score splits in half.

___________________________________________________
Pinballs.com is the Games Division of Automated Services, LLC. All rights reserved. 2021