DART MACHINES


Name: Galaxy 3 Live

Manufacturer: Arachnid
Use: Home or Commercial

This is an ARACHNID GALAXY 3 Live Commercial Electronic Dart Machine Game for sale - LIGHT USE - HOME or COMMERCIAL USE - A Bill Validator can be added for $100.00.


The Galaxy 3 Live, features Dual "Flip" Dartboards, LED Lighting, Online Play Capabilities and International Player Rankings, as well as Arachnid's "League Leader" Paperless League Software!
___________________________________________________

Game: Galaxy 2.5

Manufacturer: Arachnid
Use: Home or Commercial

We have GALAXY 2.5 Commercial Electronic Dart Machines for sale. Excellent condition, flat screen.

The Granddaddy of all electronic dart boards! Made by Arachnid, the leader in commercial grade arcade-style dart boards. This is the same soft-tip electronic dart game that can be played in arcades and taverns across the country, but now you can bring real arcade gaming action to your own home.
The Galaxy comes equipped with a flashy 19-inch full-color LCD monitor for easier viewing and superb color graphics. It also has a whole new set of inventive "Speed Games" that are sure to add an exciting twist to the game of darts.

Features:
Real arcade-style coin operation - you choose the cost or make it free!
Missed dart detector
All your favorite Cricket and O1 games, plus new ones like BS Golf
Fully lit target area illuminated from both sides
Auto player change
Selectable bull
Full color 19-inch LCD monitor
Handicapping
Player name input and recognition
Full tournament capabilities - create your own dart league!
Quality and durability you expect from Arachnid
A/C Power
Automated league mode
Download league configurations
Download league standings
Network multiple machines
Attract Screens add color and excitement when not in play
Customized "WIN" screens
Backwards compatibility
Modem call out
Simplified network configuration
Commercial-grade, soft-tip electronic dart board
Real coin operation - you set the cost!
19-inch LCD full-color monitor for easy viewing
Multiple game options and customized settings
Multiple machines can be networked together
Accommodates 8 players
Regulation target area illuminated from both sides
A top choice for your home arcade

Dimensions:
27"W x 21"D x 84"H


_________________________________________________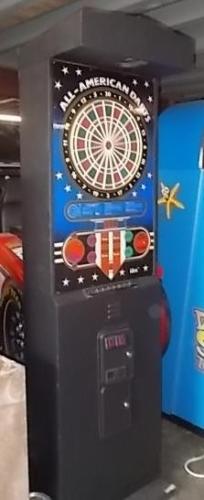 Game: All American Darts

Manufacturer: IDEA
Use: Home

Price:
$795-Reconditioned
Fascinating Skill game
It has been cleaned, tested and brought to 100% functionality.
___________________________________________________
Pinballs.com is the Games Division of Automated Services, LLC. All rights reserved. 2023