JVL AND MERIT TOUCHSCREENS
GIVE US A
CALL:
800.727.8363 or 203.877.0348

_________________________________________________
JVL TOUCHSCREENS
Authorized JVL Distributor for over 10 years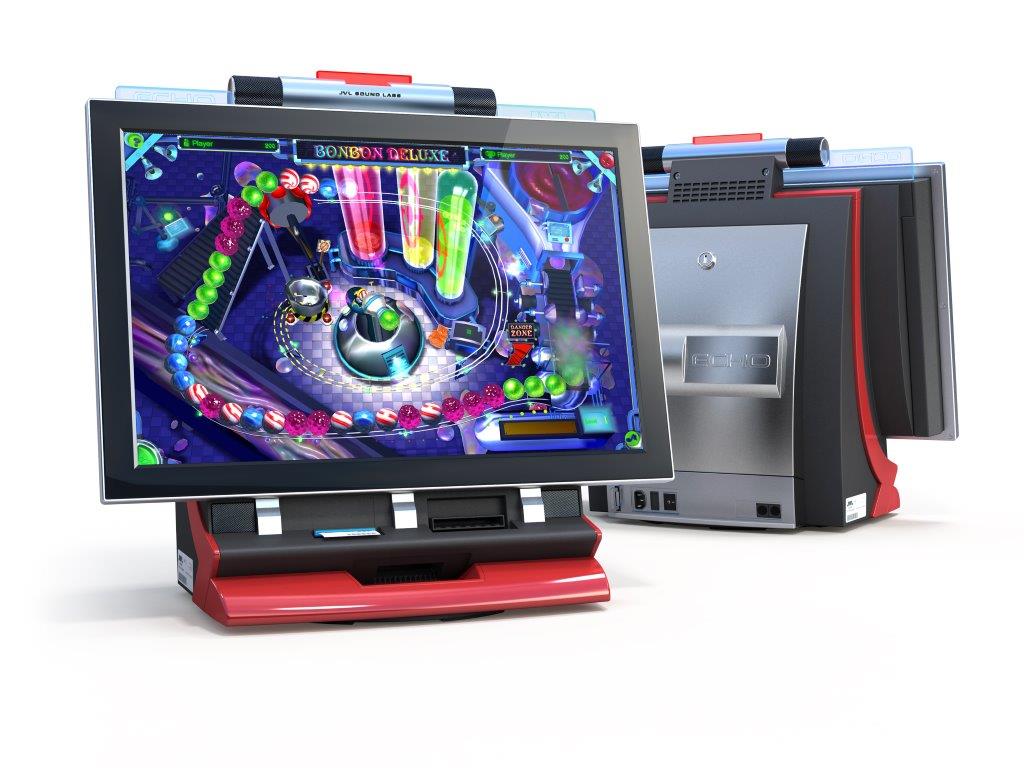 JVL ECHO HD3- NEW &

IN STOCK

Our Price:
$3,995
-
Home (no bill or coin)
$4.495-with bill
(no coin)
Prices include FREE SHIPPING
and 2 year full factory warranty
The JVL Echo HD3 video game has a full screen touchscreen 3DHD high-definition LCD monitor, a Hi-Fidelity tri-band 25-watt 4-speaker crystal clear sound system, and dozens of diverse games to choose from.
JVL ECHO HD3 Features
:
*22" high-definition touch screen LCD with 1680 x 1050 Pixel Resolution
*25-watt, 4-speaker high-fidelity, tri-band sound system with built-in sub-woofer
*High Performance game board with dedicated 3D hardware engine
*Dynamic Graphical User Interface (GUI)
*High-Speed 4GB Secure Digital (SD) storage media
*Plug and Play out of the box - features are quick and simple to configure
*No power pad, no buttons, no moving parts... no problems
*Super clean, perfectly synthesized hardware means state-of-the art cabinet design with no

messy
wires, no
bulky parts
*Advanced security features
*Uncompromised, trusted JVL quality!
JVL ECHO GAME LIST
_________________________________________________

JVL RETRO- Used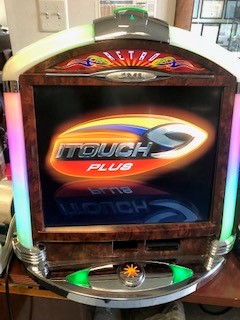 Over 100 games. Takes $1 and $5 dollar bills. 90 day parts and labor warranty

Our Price: $1,995- Free Shipping

_________________________________________________

MERIT TOUCHSCREENS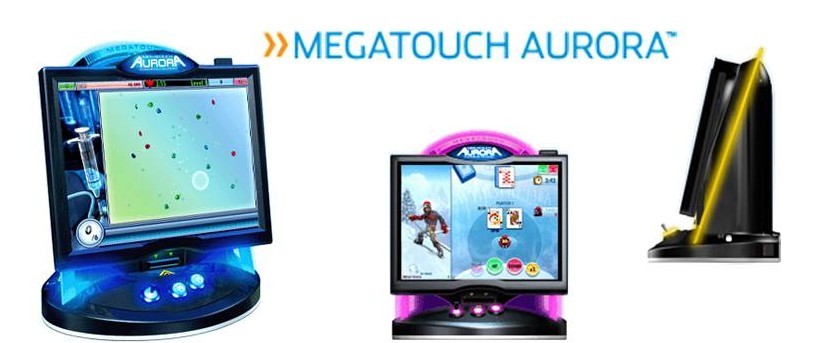 MEGATOUCH AURORA - Reconditioned
Merit's Megatouch Aurora
Ion
marks a revolutionary advance for touchscreen entertainment. The elegant, rounded design invites players with a dynamic multi-color light show that extends the game beyond the screen.
Software:
2008- $1,4
95
w/coin and bill (1 available)


Includes FREE SHIPPING



Megatouch Aurora Features:
• 17" monitor
• Over 150 touchscreen games plus joystick games
• Dynamic halo of light viewable from all directions
• Operator-selectable and player-interactive light shows
• Lighted marquee, joystick and buttons
• Broadband LAN and Wi-Fi enabled
• Quick access collection and service door
• Glide tray-mounted electronics
• 1-minute software update with Quick-Click™ drive
___________
Additional Me
rit
Reconditioned Touchscreens
We also have a variety of additional reconditioned Merit Gametime & Megatouch Aurora units available

:

Merit Megatouch FORCE 2007.5 Upright
Price: $1,295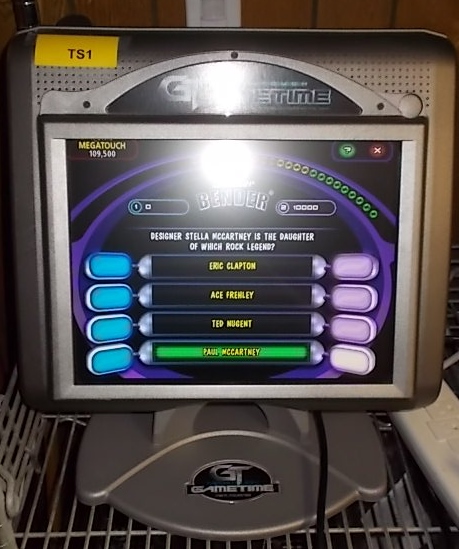 Merit Megatouch GAMETIME - 15"
Price: $1,295-Free Shipping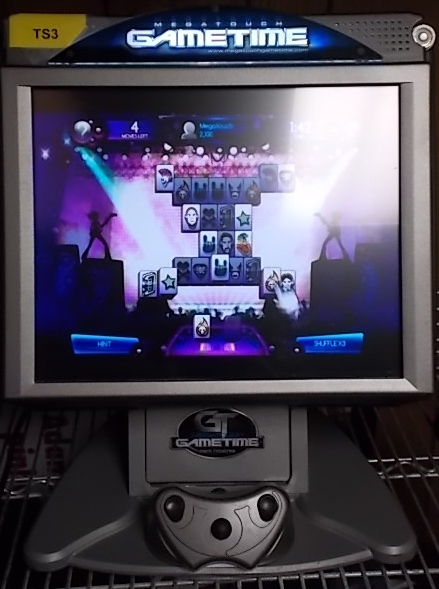 2012-Merit Megatouch GAMETIME DELUXE - 17"
Price: $1,445-Free Shipping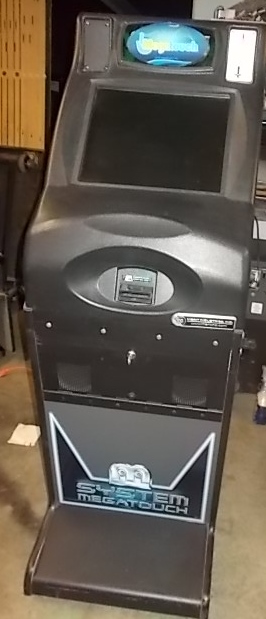 2014-Merit MEGATOUCH Upright-LAST ONE!

Dimensions: 20"W x 15.75"D x 62"H
Price: $1,495
Pick-up or local delivery (additional cost) only

Merit Touchscreen & Stand - $1,095

This is a Megatouch Touchscreen and Floor Stand by MERIT.
The Stand is available separately for $395 and will accommodate almost ANY COUNTERTOP Machine such as: Merit Megatouch, JVL, Nexus, Ultracade Countertop, Namco Pac-man Countertop, etc.

The futuristic and attractive design gives your countertop a sleek, contemporary look - complete with a built-in foot rest.
Dimensions: 43.5" H x 26" W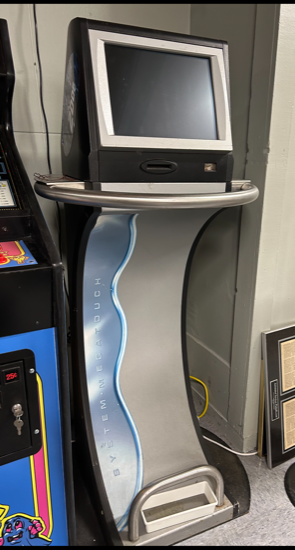 Merit Megatouch Gold EditionTouchscreen - $500
This MEGATOUCH by Merit includes 50+games.

Midway Touch Master - $895

This TOUCH MASTER by MIDWAY is an upright touchscreen game. 80+ games. Plays great!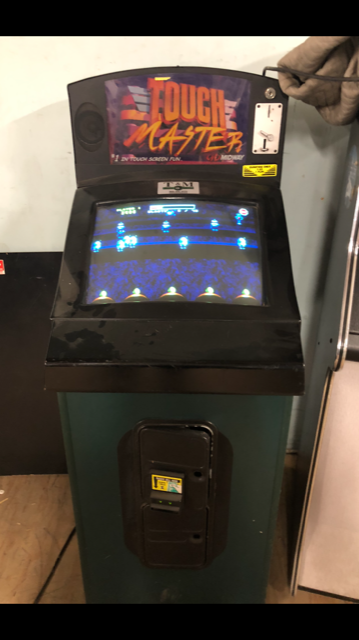 __________________________________________________
Pinballs.com is the Games Division of Automated Services, LLC. All rights reserved. 2023