Video Arcade Games- DELUXE

Yes, we have more video games. Check out our amazing inventory of deluxearcade video game titles. If you don't find what you're looking for here:
Call us today at 800.727.8363 or 203.877.0348

________________________________________________________________________________
PRE-OWNED Video Arcade Games
Game: NASCAR Racing Deluxe Motion

Manufacturer: Global VR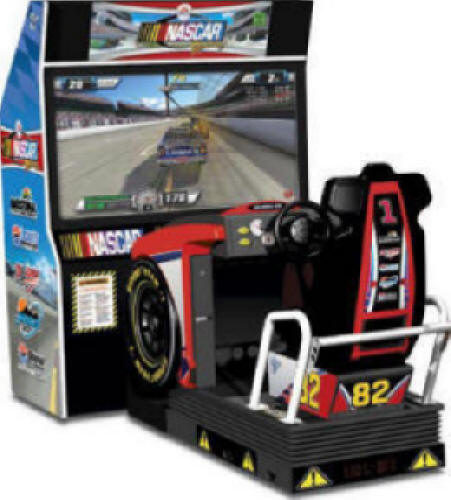 Use: Home or Commercial

Price:
$4,295 - Reconditioned
Factory Cabinet-50" Monitor

EA SPORTS™ NASCAR® Racing gives players the thrill of the NASCAR racing experience equaled only by the real thing. From the cars, to the drivers, to the NASCAR-Sanctioned Tracks, this racing masterpiece will be seen in locations for years to come. It's the only game with 10 licensed tracks, including Daytona™, Bristol™ and Talladega™. Selectable drivers include Dale Earnhardt Jr. (#8), Jeff Gordon (#24) plus many more. All tracks, drivers and drivers' cars are accurate in every detail.

Link up to 10 cabinets to get the complete NASCAR experience.

_____________________________________________________________________________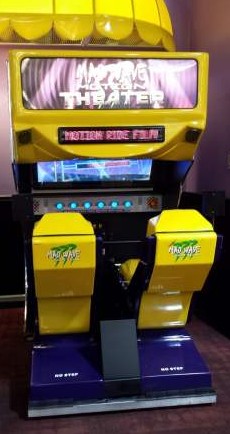 Game: Mad Wave Motion Theater

Manufacturer: Triotech Amusement

Use: Home or Commercial

Price: $7,995 - Reconditioned

Mad Wave Motion Theater is a great system for every location because it appeals to all types of players, young and old, boys and girls. Whether they are being immersed into a fantasy world roller coaster ride or experiencing an authentic high-speed racecar drive, the reaction is the same across the board, sheer delight!

Unlike many traditional motion platforms that only reproduce directional movements, Mad Wave Motion Theater delivers up to 2G's of acceleration. From the vibrations of a car shifting gears to the collision of an accident, this new motion technology involving high-tech actuators allows the player to sense it all.

Dimensions:

Height: 88
Width: 55
Depth: 84
Weight: 900 lbs.

_____________________________________________________________________________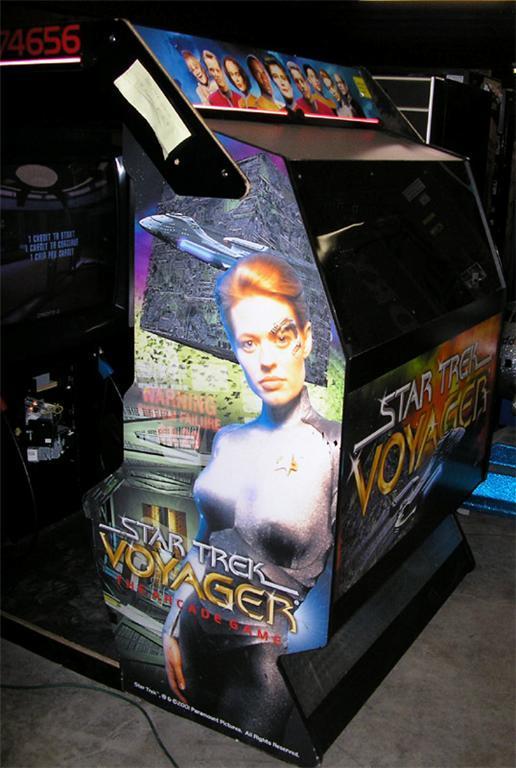 Name: Star Trek Voyager
Manufacturer: Team Play

Use: Home or Commercial

Price:
$1,995 - Reconditioned - RARE
This is a reconditioned STAR TREK VOYAGER 33" Sit-Down arcade machine by TEAM PLAY!

An outer space battle simulator based on the TV series of the same name.

____________________________________________________________________________
Name: Star Wars Trilogy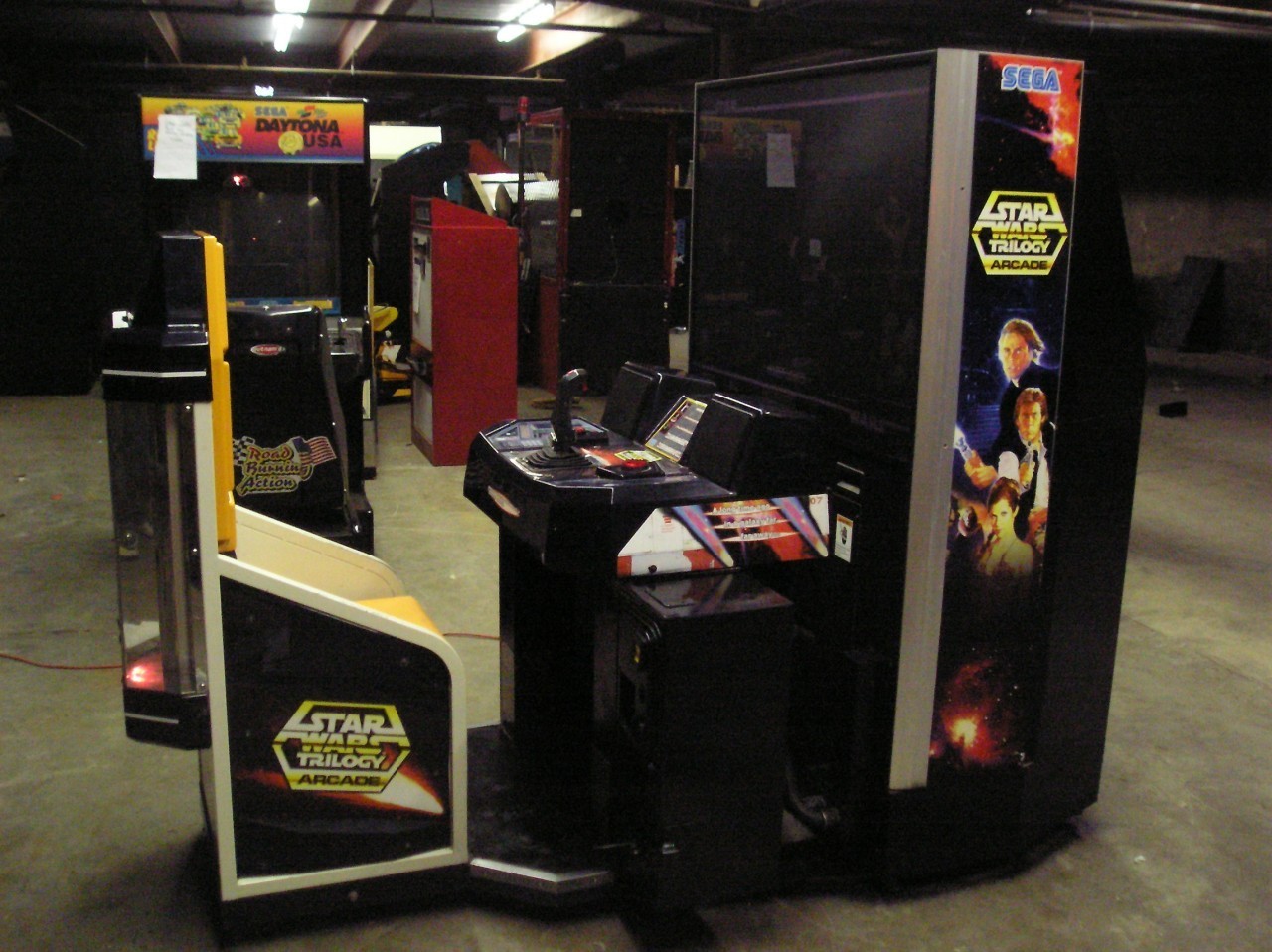 Manufacturer: Sega

Use: Home or Commercial

Price:
$2,495 - Reconditioned

STAR WARS TRILOGY ARCADE DX SIT-DOWN Arcade Machine-3D SHOOTER-LIGHTSABER MODE!
$100 Crating Fee applies to this machine.


This is a reconditioned STAR WARS TRILOGY ARCADE DX SIT-DOWN Arcade machine!

At the start of the game, you choose one of three different missions, each from a different film in the original trilogy. Each selectable mission consists of a few stages; after you finish all stages, you may choose another mission. After you finish two missions, you enter a bonus round of lightsaber combat. After you finish the third mission, you enter another lightsaber combat round, and then you take on a fourth two-stage mission from Return of the Jedi.

In several of the modes, the red Event buttons will light briefly; pressing the button will provide the opportunity for a bonus. The Star Wars mission, Yavin, is all space combat, with you piloting an X-Wing. In the first stage, you confront a multitude of TIE Fighters; in the second stage, you must destroy the first Death Star.

The Empire Strikes Back mission, Hoth, begins with you piloting a snowspeeder; you must shoot down AT-STs and Probe Droids, and assist your squadron to destroy AT-ATs. The second stage is a first-person shooter; you move through the Rebel Base, defending against snowtroopers and Wampa until you reach the Millenium Falcon.

The Retrun of the Jedi mission begins with a Speeder Bike sequence; you must attempt to destroy the Imperial bikes that you encounter. The second stage is a first-person shooter; make your way to the Imperial Bunker to destroy it. In a third stage, you take on an AT-ST with nothing but a blaster.

The first bonus stage, after your second mission, is a lightsaber phase where you must block blaster shots from Boba Fett.

The second bonus stage, after your second mission, is a lightsaber battle against Darth Vader.

After the Darth Vader duel, you enter a space combat mode, again flying an X-Wing to destroy the second Death Star.

__________________________________________________________________________________
Pinballs.com is the Games Division of Automated Services, LLC. All rights reserved. 2018