MMR Standard




Classic Edition

Special Edition

Limited Edition





























Black Arrow SE

Smaug Gold SE

Limited Edition

Standard




75th Anniv. LE

Emerald City Edition

Standard

Collector's Edition

Limited Edition


Standard



___________

GAME OF THRONES
KISS
THE WALKING DEAD
GHOSTBUSTERS
AEROSMITH
BATMAN 66
_________
We also have hundreds of new and r
econditione
d
VIDEO ARCADE GAMES
!

_______



Check out our NEW LOWER PRICES

on JVL and MERIT Touchscreens!



_______

Come Visit
U
s!
The Pinball Store has moved. Our new
showroom
is located at our corporate offices at
145 Pepe's Farm Road in Milford, CT.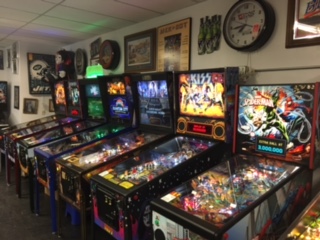 We're just minutes off of I-95. In addition to the pinball machines in our showroom, we have thousands more games of all kinds in our facility and warehouse, a 2 minute drive from the showroom.
WE RENT MACHINES FOR PARTIES & EVENTS.

Call 203-877-0348 for additional information.

SHOWROOM HOURS

Monday - Friday 9:00 AM - 5:00 PM
__________________________

About Us Contact Us Shipping/Delivery Terms & Conditions

Pinballs.com is the Games Division of Automated Services, LLC., Milford, CT 06460 All rights reserved. 2017